UR Wellness in Burnaby offers
Dynamical Neurofeedback Brain Training.​
A Natural Solution For A More Restful Sleep.
Our Brain Balancing Programs Promote Better Sleep and Assist You in Your Journey to Inner Peace
We offer intuitive mind body medicine that combines science backed, evidence-based tools to facilitate powerful shifts to help you change from
the inside out.
Benefits of a Restful Sleep
Improved Cognition & Memory​
Better Self Esteem & Confidence
Better Physical Appearance
Enhanced Productivity at Work & School
Increases Self Awareness & Better Decision-Making Skills​
Improved Physical Health and Weight Management​
The Hyndman Method of Intuitive Brain Balancing combines holistic western approaches, biofeedback technology, somatic psychology, and eastern healing practices to access the mind and the body at its full capacity. We teach you both at a conscious & subconscious level, how to decipher the subtle cues your body gives you, so you can be more present, healthier and connect with your body at a soul level, to make heart-centered, embodied decisions to stress less and sleep better.
Neurofeedback Brain Training
Dynamical Neurofeedback is essentially a brain workout that exercises your brain. The training is comfortable,
relaxing, and fun.
Craniosacral therapy is a light-touch form of body work that releases tensions deep in the body, both at a physical and emotional level.
Intuitive Body-Mind counselling can get you out of overwhelm and into the flow of life where everything unfolds naturally.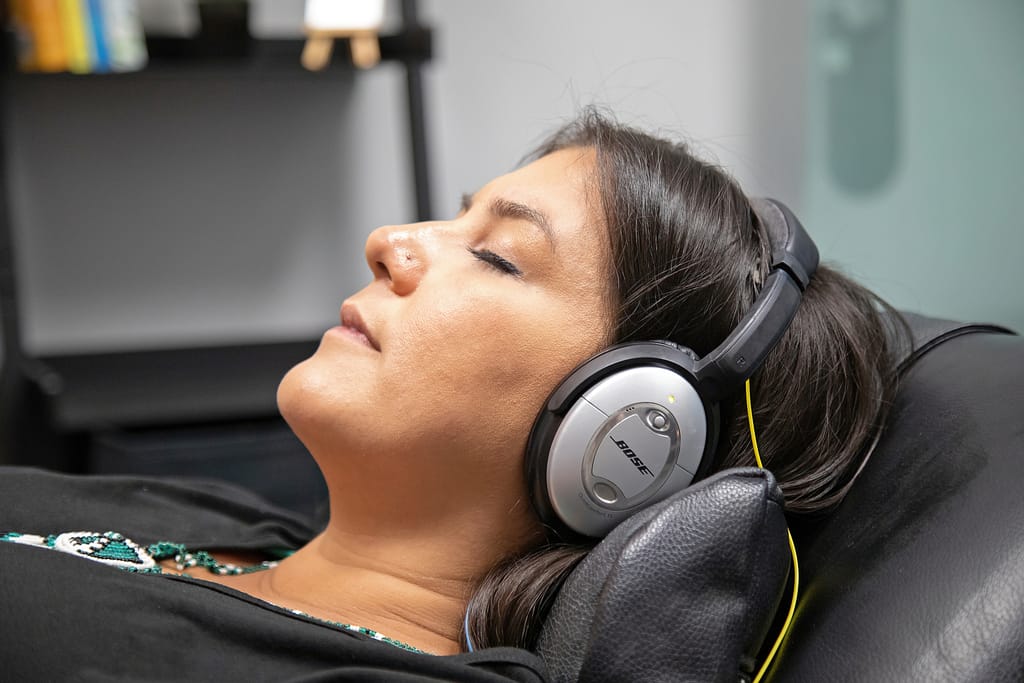 What is Neurofeedback and How Does It Work?
Dynamical Neurofeedback is a powerful neuro-technology that can help you effortlessly train your brain to optimize your life. Sitting in a comfortable chair with sensors on your scalp and ears, the NeurOptimal® Brain Training system monitors your brain's electrical activity. Your brain is provided with audio cues of how it is functioning in real-time. Your brain utilizes this information to "reset" and optimize itself. Benefits include self-regulation for stress reduction, improvement of sleep patterns, better focus, mental clarity & improved confidence.
Wellness Services
Our center offers professional Mind Body Medicine and Brain Balancing Programs
Embodiment Counselling
Neurofeedback Brain Training Programs
Craniosacral Therapy
Home Brain Training Programs
Embodiment Counselling
E-Learning Courses
Professional Experience
At UR Wellness we listen, educate, and empower you to take charge of your health. We have 20+ years of experience facilitating neurofeedback sessions, and over 30 years of experience working in the mental health field.
Training & Technology
The practitioners at UR Wellness have extensive professional experience and embrace a comprehensive approach to mind/body health using advanced training and technology.
Unique Approach
Our unique approach to health, combined with our ability to create a safe non- judgmental environment, allows you to balance your brain so you can function at your best.
• UR Wellness is a place where care is provided through understanding and respect of the body's own innate inner wisdom.
• UR Wellness is dedicated to targeting your unique needs by listening, educating, and providing mind-body & brain solutions based in neuroscience, while creating a safe comfortable environment for your healing to occur.
• Our feature service is neurofeedback, as we know that brain training enables your nervous system to function at its best, allowing your body and mind to return to balance. When your nervous system is in a natural state of well-being, you sleep better, feel less anxious, display fewer compulsive behaviours and feel happier and more at peace.
• Our center aims to provide affordable brain training programs from highly skilled and trained professionals.
• We offer late afternoon, evening, and weekend appointments
Call us on (604) 831-1330 or Book An Appointment Online
Learn More About UR Wellness
Changing the world one brain at a time!